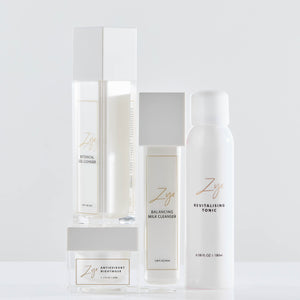 Zyu
Zyu Night Essentials Bundle
Sale price Price $165.00 Regular price $173.00 Unit price / per
Zyu Night Essentials bundle contains:
1 x Balancing Milk Cleanser (100ml)
1 x Botanical Gel Cleanser (100ml)
1 x Revitalising Tonic (180ml)
1 x Antioxidant Night Mask (50ml)
 --
Skin type: Combination, Dry, Normal, Oily, Sensitive
Remedies: Acne, Ageing, Dryness, Dullness, Irritated Skin, Fine Lines & Wrinkles, Firmness & Elasticity, Uneven Skin Texture, Sun Protection, SPF, Uneven Skin Tone, Visible Pores
Composition: Cream (Balancing Milk Cleanser), Gel (Botanical Gel Cleanser), Water (Revitalising Tonic), Cream (Antioxidant Night Mask)
Skincare By Age: 20s, 30s, 40s, 50+, Under 20
--
Spice up up your night skincare routine and wind down with Zyu's Night Essentials bundle! This set of skincare favourites will reverse stresses accumulated during the day, and provide ultimate nourishment for your skin during the night.
Using Balancing Milk Cleanser, remove make-up, dirt, and surface impurities from your skin. The AHAs in this cleanser provide gentle chemical exfoliation for your skin.
Follow up with a second cleanse by using our gentle gel facial wash, Zyu's Botanical Gel Cleanser, which helps to further remove impurities and provide a gentle chemical exfoliation. It lifts dead skin cells to reveal newer, and brighter skin. Not only is Botanical Gel Cleanser capable of unclogging pores by penetrating deeper into your skin, it also deeply hydrates and regulates sebum production without stripping away your face's natural oils.
Next, moisturise and replenish your skin's pH level by applying a few spritz of Revitalising Tonic, holding it 10-20 cm away from face. This helps to tone your skin and prep it for the next step in your morning routine.
Lastly, apply a light layer Antioxidant Night Mask, making sure to cover your face thoroughly. Our night mask works as a sealant to "lock in" your skincare actives, while also as a barrier to prevent dirt and impurities from entering your pores. In the day, your skin is more likely to have damage from free radicals, and this step helps to reverse such damage, on top of improving acne conditions and containing anti-ageing properties.
Check out Zyu's Morning Skincare Routine.
Balancing Milk Cleanser
Active Extracts:
Lactic Acid gently exfoliates skin by breaking down and dissolving dead skin cells, resulting in younger and plumper looking skin
Sodium Lactate moisturises and regulates the pH level of skin, maintaining the natural protective barrier, and brightens complexion.
Hamamelis Virgiana (Witch Hazel) Water provides anti-inflammatory and antiseptic properties for calmed, soothed skin.
Ingredients:
Water, Polyquaternium-7, C12-15 Alkyl Benzoate, Cetyl Alcohol, Glycerin, Glyceryl Stearate, Hamamelis Virginiana (Witch Hazel) Water, Sodium Lactate, Propylene Glycol, Stearic Acid, Steareth-2, Steareth-21, Lactic Acid, DMDM Hydantoin, Sodium Hydroxide, Hydroxyethylcellulose, Allantoin, Iodopropynyl Butylcarbamate
--
Botanical Gel Cleanser
Active Extracts:
Glycolic Acid contains skin-renewing properties, sheds dead skin cells to bring newer and brighter skin to surface. It also minimises the appearance of fine wrinkles and improves skin texture.
Camellia Oleifera Leaf (Green Tea) possesses anti-inflammatory properties that soothes the skin, reduces redness and alleviates swelling.
Calendula Officinalis Flower Extract refines the skin, prevents acne and maintains hydration.
Chamomile Recutita (Matricaria) Flower Extract is a natural anti-inflammatory agent that promotes wound healing and reduces photodamage.
Ingredients: Water, Cocamidopropyl Betaine, Glycolic Acid, Hydroxyethylcellulose, Glycerin, Sodium Lactate, DMDM Hydantoin, Polysorbate 20, Camellia Oleifera Leaf Extract, Calendula Officinalis Flower Extract, Chamomilla Recutita (Matricaria) Flower Extract, Iodopropynyl Butylcarbamate.
--
Revitalising Tonic
Active Extracts:
Hamamelis Virginiana Distillate (Witch Hazel) is effective for astringent and anti-inflammatory properties. Thoroughly remove excess oil from skin, purify skin and helps reduce pore size.
Rosa Damascena Flower Distillate (Rose) has certain antiseptic and anti-bacterial properties. It also controls and balances sebum production, making it useful for both dry and oily skin.
Proline and Floral Damascena helps to improve skin texture and aids collagen formation and prevents the loss of collagen during ageing.
Saccharide Isomerate keep skin moisturised longer than most emollients do.
Pyrus Malus Fruit Extract is rich in antioxidant, this extract helps to fight free radicals and is anti-ageing. it is also a chemical exfoliator that brightens your skin, shrink your pores and balance the oils in your skin.
Salicylic acid works best for reducing blackheads and whiteheads. When used regularly, this ingredient may also prevent future comedones from forming. A touch of salicylic acid in our tonic does wonders.
Ingredients: Aqua, Hamamelis Virginiana Distillate, Rosa Damascena Flower Distillate, Glycerine, Hydrolyzed Glycosaminoglycans, Disodium EDTA, Sericin, Pectin, Morus Alba Root Extract, Vitis Vinifera (Grape) Seed Oil, Lecithin, Sodium PCA, Lepidium Sativum Sprout Extract, Phenoxyethanol, Chlorella Vulgaris/Lupus Albus Protein Ferment, Pyrus Malus (Apple) Fruit Extract, Salicylic Acid, Citric Acid
--
Antioxidant Night Mask
Active Extracts:
Rosemary Extract strengthens the capillaries and helps to slow the effects of ageing on skin. With its powerful disinfectant and antibiotic properties, the herb can help to treat acne and oily skin conditions. help lightens dark spots and blemishes on the skin resulting in an improved skin complexion.
Lily Extract treats burns and other wounds without leaving any scars. It is also helpful in healing the scar tissues.
Pure Aloe Vera Extract deeply penetrates, regenerates and firms up the skin, containing moisturising and protective properties.
Sodium Hyaluronate Extract enhances the production of collagen, thickens the skin, and reduces the appearance of fine lines and wrinkles.
Arbutin BearBerry Extract possesses skin-brightening property. It works for skins with hyperpigmentation, brown marks and those with sun-damage concerns on the skin. It makes the skin clear and radiant.
Vitamin A & E Extract moisturises the skin and helps to improve skin texture and softness. As an antioxidant, it helps to protect the skin from damage by free radicals, and also helps to fight the signs of premature ageing.
Ingredients: Aqua, Butylene Glycol, Glycerin, Acrylates/C10 30 Alkyl Acrylate Crosspolymer, PPG-26-Buteth-26, PEG-40 Hydrogenated Castor Oil, Sodium Hyaluronate, Aloe Barbadensis Leaf Juice, Rosmarinus Officinalis (Rosemary) Leaf Extract, Lilium Candidum L. Leaf Cell Extract, Potassium Hydroxide, Panthenol, Tocopheryl Acetate, Retinyl Palmitate, Phenoxyethanol, Arbutin, Tetrasodium EDTA.
Directions:
Balancing Milk Cleanser
Dispense a few pumps onto wet palms and massage gently onto face with a gentle circular motion. Rinse thoroughly with water.
Botanical Gel Cleanser
Dispense a few pumps onto wet palms and massage gently onto face with a gentle circular motion. Rinse thoroughly with water.
Revitalising Tonic
Hold 10-20cm away from face and spray to cover entire face. Gently tap with fingers to improve absorption.
OR
Saturate a cotton pad with tonic. Gently wipe entire face and decolletage in an upward and outward motion.
Antioxidant Night Mask
Spread a thin layer on clean face, including under eye area and leave on overnight. Rinse off with warm water in the morning.
Choosing a selection results in a full page refresh.
Press the space key then arrow keys to make a selection.